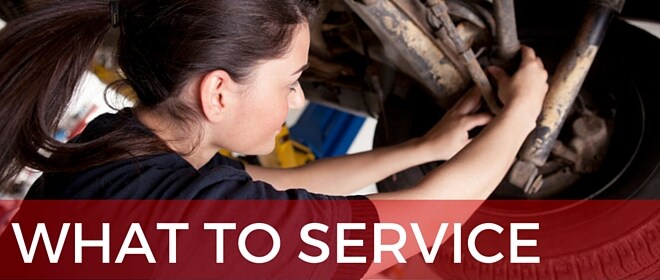 One of the most important aspects of vehicle ownership is routine maintenance and general repairs. You should pay close attention to your vehicle's maintenance schedule, including oil changes, brakes, tire rotations, and more. Here at Coronet Dodge Chrysler Jeep Ram Fiat, we can also handle any repairs you might have. If your car breaks down or if your check engine light comes on, bring it to our Service Center.
Oil Changes should be performed about every three months or 3,000 miles. This is a general rule of thumb; consult your manual for specific information. When changing the oil, you should also change the oil filter, and adjust the viscosity (5W vs. 10W oil, for example) for cold weather. Use a lower viscosity for cold weather, if possible.
Tires should be rotated every six months or 6,000 miles. This allows for even wear, extending the life of your tires. You should replace tires if they drop below 4/32-inch. While a tread-depth indicator is ideal, you can also measure this using a penny. Flip it upside down and place it in the tread - if you can see above Abe's head, it's time for new tires.
Brakes should be replaced when the pads get below 3mm, though this is harder to measure. Generally, brakes last about 30,000 miles, but you should change them if they begin to squeak or if the brake pedal pulses. If you wait too long, you may have to replace the entire brake apparatus, which is significantly more expensive.
Wipers should be replaced at least once a year, typically right before winter. Take this time to check fluids as well, including: brake fluid, transmission fluid, oil, coolant, and power steering fluid.
If you notice your car making a strange noise, acting up, or if the check engine light comes on, bring it in immediately. Here at Coronet Dodge Chrysler Jeep Ram Fiat we have a trained and certified staff capable of diagnosing and fixing your car as fast as possible. Hesitating to bring it in will not only lower performance and fuel economy, but it can also do serious permanent damage to your car.
Make an Inquiry
* Indicates a required field
Hours
Monday

08:00AM - 07:00PM

Tuesday

08:00AM - 07:00PM

Wednesday

08:00AM - 07:00PM

Thursday

08:00AM - 07:00PM

Friday

08:00AM - 07:00PM

Saturday

08:00AM - 05:00PM

Sunday

Closed