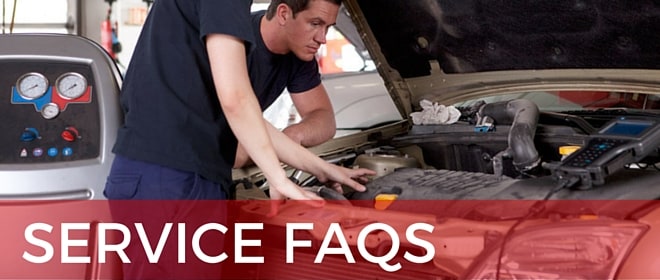 Taking care of your vehicle is important to increase its longevity. We at Coronet Dodge Chrysler Jeep Ram Fiat know that your vehicle is an investment and should be taken care of on a regular basis. We have prepared some frequently asked questions to help you establish a regular service routine. 
What is routine maintenance?
Routine maintenance is considered to be anything that needs to be checked or replaced on a somewhat frequent basis. Oil changes, fluid checks, general inspections (tires, belts, lights, etc.), battery checks, filter replacements, windshield wiper replacements, new spark plugs, and tire rotations are common workings of routine maintenance. 
Why is routine maintenance is important?
Routine maintenance allows you to keep your car running properly. By keeping up-to-date on servicing your vehicle, it will help prevent future problems. Investing in your vehicle's service needs could potentially save you thousands in future repairs, as minor issues can be caught before becoming major issues.
Okay, I know I should get my car serviced, but how often? 
Each car is different, but the best answer will be in your owner's manual. It should say when you need to get different components of your vehicle checked. Remember that the driver's manual is made for the average driver, so intervals may change depending on how much or how little you drive your vehicle.
What is the most frequent routine maintenance? 
Changing the oil is usually the most frequent service needed. As a general rule of thumb, most cars should have their oil changed around every 7,500 miles or every six months. However, some luxury vehicles only need oil changes every 15,000 miles, while other turbocharged engines may need changes every 5,000 miles. Check your driver's manual for your vehicle's recommended oil change schedule. 
So what if I have never had routine maintenance?
We at Coronet Chrysler Dodge Jeep Ram Fiat know that sometimes people do not get the routine maintenance their vehicle needs. We want you to have a sense of confidence in your vehicle, the peace of mind that comes with regular car maintenance. Schedule a service appointment with us and we will help you get back on track. Be ready for the road ahead by following a service schedule and allowing Coronet Chrysler Dodge Jeep Ram Fiat to keep your car routinely serviced. 
When should I change motor oil?
Nothing is as important to your engine as motor oil. It ensures that the engine operates smoothly without overheating and even helps wash away undesirable particles. Check your owner's manual to find how often you should change your car's motor oil. Every 5,000 miles or 5 months, whichever comes first, is usually a good place to start.
When should I check tire pressures?
This depends on the time of the year, because tire pressure changes constantly along with temperature. In the winter, when temperature drops occur frequently, you may want to check tire pressure as often as once a week. During the rest of the year, shoot for once a month.
When should I change the wiper blades?
As a general rule, you should look into changing wiper blades once you notice your blades streaking across the windshield during a rainy drive. This usually occurs about once a year, but if you tend to park your car outdoors, it can be as often as twice or three times per year.
When should I get the tires rotated?
Tires at the front of a car wear out faster than those at the rear because they experience the majority of steering forces. Rotating them from front to back, and sometimes from side to side, will help extend the life of your tires. Try to do this at least every other oil change.
What else should I do?
Cars are made up of thousands of parts all working together. You don't have to keep track of all of them, but even then, remembering what to service and when to do it can be overwhelming. We recommend coming in for service at Coronet Chrysler Dodge Jeep Ram Fiat every 5,000 miles, and we'll let you know what your car needs each time!
Make an Inquiry
* Indicates a required field
Hours
Monday

08:00AM - 07:00PM

Tuesday

08:00AM - 07:00PM

Wednesday

08:00AM - 07:00PM

Thursday

08:00AM - 07:00PM

Friday

08:00AM - 07:00PM

Saturday

08:00AM - 05:00PM

Sunday

Closed