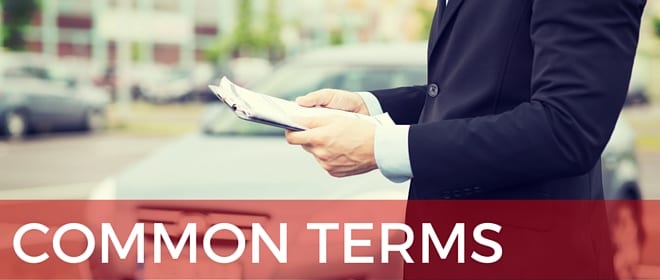 Buying a vehicle can be a difficult process by itself. However, the process becomes even more difficult when people throw in terms you may not be familiar with. Here at Coronet Dodge Chrysler Jeep Ram Fiat, we are not here to trick you, we are here to help. Below, you'll find some of the most common terms related to car financing you might hear in our finance department.
Annual Percentage Rate (APR)
When you obtain a loan, you are using someone else's money (the bank's) to buy something (a vehicle). For that privilege, the bank charges you a percentage of that loan amount annually.
Dealer Incentives
These begin as discounts offered by manufacturers to dealers that are passed on to the buyer.
Early Termination Fee
Every lease agreement comes with an agreed-upon term. If a person wishes to end the lease before the term, they must pay a fee.
Excess-Wear Charge
With leases come certain restrictions, one of which defines a normal level of wear and tear. Exceed that level and you will incur charges.
Mileage Limit/Allowance
Lease agreements often include a mileage allowance, which is the number of miles you are permitted to drive per year. Exceed that limit and you will have to pay a charge.
MSRP
This stands for Manufacturer Suggested Retail Price, the price at which the manufacturer recommends the dealer sell the vehicle.
Residual Value
What a vehicle's value will be at the end of a lease, this estimate is called the residual value. According to most lease agreements, it is used to calculate monthly payments and it is the price at which the lessee can purchase the vehicle at the end of the term. 
Make an Inquiry
* Indicates a required field
Hours
Monday

08:00AM - 07:00PM

Tuesday

08:00AM - 07:00PM

Wednesday

08:00AM - 07:00PM

Thursday

08:00AM - 07:00PM

Friday

08:00AM - 07:00PM

Saturday

08:00AM - 05:00PM

Sunday

Closed