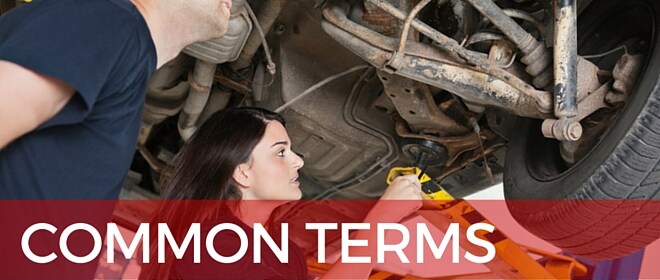 Aftermarket Part: Any replacement part not obtained through a franchise dealer. Often these are universal parts meant to fit into any vehicle and don't come from the original manufacturer. As a result, there are cases in which vehicles requiring specific parts won't be compatible with aftermarket parts.
Anti-Freeze: Also called coolant or engine coolant, anti-freeze is used to keep the engine temperature steady year-round by dissipating heat in warm weather and preventing freezing in the winter. It also protects the cooling system from rust and corrosion.
Chassis: Also called an undercarriage. The chassis is the frame of the vehicle which contains all components of the drivetrain as well as the suspension. While most modern-day cars have fused together the main body with the chassis, pickup trucks still have a separate frame and body.
Curb Weight: When a vehicle contains no passengers or cargo but has a full tank of gas, that is considered the vehicle's true curb weight.
Differential: Used to prevent the vehicle from slipping and allow it to make tighter turns, the differential is a system of gears that rotates the outer wheels faster than the inner wheels during a turn.
Drivetrain: Sometimes also referred to as a powertrain, the drivetrain is the system, consisting of the engine, transmission, driveshaft, differential, and axles, that delivers power to the wheels of a given vehicle.
Master Cylinder: Located typically near the brake fluid, the master cylinder is the part of the braking system that converts mechanical power into hydraulic power and allows the brakes to stop the vehicle.
OEM: An abbreviation for "original equipment manufacturer." Unlike aftermarket parts, OEM parts are available through franchised dealerships and are made specifically to fit into a certain type of make and model.
Make an Inquiry
* Indicates a required field
Hours
Monday

08:00AM - 07:00PM

Tuesday

08:00AM - 07:00PM

Wednesday

08:00AM - 07:00PM

Thursday

08:00AM - 07:00PM

Friday

08:00AM - 07:00PM

Saturday

08:00AM - 05:00PM

Sunday

Closed