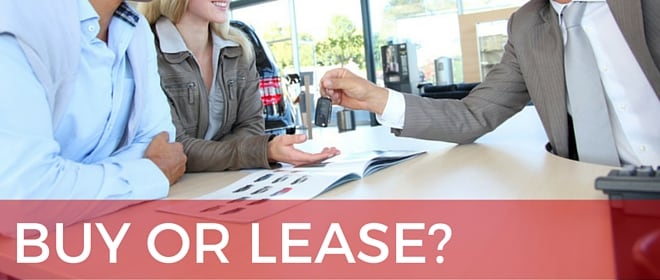 Both buying a car and leasing one have their own set of benefits and advantages, as well as downfalls. However, a lot of car buyers never try leasing because it can seem intimidating or confusing. It boils down to what your individual wants, needs, and lifestyle are. Weighing the pros and cons of each process and determining how much they mean to you as an individual can help you decide. Here are some of the pros and cons of each choice.
Finance
When you purchase a car by taking out a loan, you will usually need to have some kind of down payment, either through a trade-in or cash. This can be as much as 20% of the purchase price. You will then make monthly payments until the loan plus any interest is paid off.
Once the loan is paid, you own the car outright and are free to do whatever you want with the car. You also have no restrictions on mileage.
Lease
With a lease, many people are able to squeeze more car into their budget since the monthly payments are based on only a portion of the car's total value. This means you could have lower monthly payments.
When you take out a lease, you are essentially borrowing the car for a set amount of time. When the lease agreement is over, you have to return the car. You also have mileage restrictions, and if you exceed that mileage, you will have to pay for the overage.
If you love driving a new car all the time and love the latest in-car technology, a lease is probably the best choice for you. But, if you try to keep your cars as long as possible, financing would be the right path for you.
Make an Inquiry
* Indicates a required field
Hours
Monday

08:00AM - 07:00PM

Tuesday

08:00AM - 07:00PM

Wednesday

08:00AM - 07:00PM

Thursday

08:00AM - 07:00PM

Friday

08:00AM - 07:00PM

Saturday

08:00AM - 05:00PM

Sunday

Closed