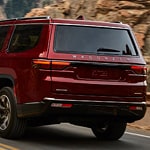 When you're shopping for a large SUV, you want a vehicle that can take you and your crew off the beaten path. The 2022 Wagoneer has all the power you need to take on the toughest terrain. Stop by Coronet Dodge Incorporated and check out your options on a Wagoneer.
The 2022 Wagoneer offers plenty of power for all your off-road adventures around Peru, IL. This SUV is available in three trim levels - Series I, II, and III. Every model features a 5.7-liter V8 engine that produces 392 horsepower. This SUV includes an eight-speed automatic transmission paired with a rear-wheel-drive or four-wheel-drive powertrain. This powerful vehicle can tow up to 7,400 lbs.
The Wagoneer gets approximately 16 mpg city and 22 mpg highway. The fuel tank holds over 26 gallons of gas, so you'll spend less time filling up and more time on the road.