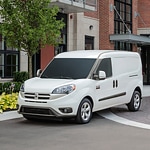 The Ram ProMaster City offers users a modern style and a professional look. The car competes with the compact Class 1 van segment, focusing on the total purchase price and commercial client needs. Below are some of the features that make Ram ProMaster City the commercial vehicle:
Cargo volume of 131.7 cubic ft
The payload of over 1,885 pounds
It comes with a 174 lb. ft torque and 178 horsepower meter to a 9-speed exclusive transmission
It has a cargo length of 60.4 inches and a width of 87.2 inches
It has a wheelbase of 122.4 inches
Cargo width between the car wheels of 48.4 inches
The Ram ProMaster City body system and related exterior design are designed to create outstanding practicability, versatility, and an excellent refinement level. Besides that, the car comes with fleet management technology powered by Verizon Connect. Ram Telematics will track the vehicle and also the driver's behavior in Peru, IL.