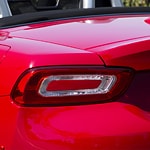 Here at Coronet Dodge Incorporated, we provide luxury products to customers who know the value of their dollar. That's why we always make sure to only stock the highest quality vehicles - that's how you ensure your customers are constantly satisfied. With the Fiat Spider Roadster, you're getting a vehicle that not only satisfies, but performs.
The Roadster bring 160 Horsepower to the road, and a 1.4 liter engine into your life. You won't be caught slacking the next time you need to press on the gas, and you'll be taking off in style when you drive away in the Roadster's beautiful exterior. This car ensures you'll be getting both style and pure performance.
If you're curious about how it feels to drive one of the most coveted automobiles on the market, then come visit us here at Coronet Dodge Incorporated today for a test drive. We promise you this car feels every bit as good as it looks.