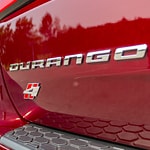 Because the cost of gas is always changing, it is important for you to choose a vehicle that is good on gas. If you purchase the Dodge Durango, then you can rest assured that you will have a vehicle that is great on gas.
You can switch the Dodge Durango to Eco Mode. You can activate this mode by pressing a button. It will adjust the throttle sensitivity and shift schedule in order to maximize your fuel economy. This will reduce the amount of fuel that your vehicle uses.
The engine itself is also fuel efficient. It has the ability to get an EPA-estimated 26 MPG on the highway and 19 MPG in the city. Additionally, this vehicle has all-wheel drive. It provides power to all of your wheels. Contrary to popular belief, all-wheel drive is still good on gas.