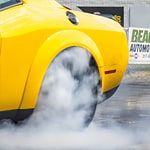 It's not every day you come across a muscle car that is both powerful and fuel-efficient. In fact, in most models it is difficult for both concepts to coexist. Yet, the Dodge Challenger goes out of its way to make peace between performance and fuel economy.
One of the ways it does this is by selecting powertrain components that are fuel efficient. A moderate V6 that uses fuel conservatively is paired with a TorqueFlite eight-speed automatic transmission that uses variable line pressure to use fuel efficiently. This improves the overall fuel rating of the Dodge Challenger models paired with this engine type.
In addition, the HEMI V8 engine is accompanied by Fuel Saving Technology that makes the most out of the power it produces. Shutting off four of its eight cylinders when they are not in use, this Challenger model only relies on all eight when they are truly needed.