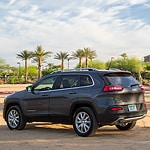 The Jeep Cherokee is an excellent option if you want interior features for comfort and convenience. Consider stopping by Coronet Dodge Incorporated to explore the available Cherokee interior options such as the heated steering wheel and expandable cargo area.
Whether you are taking a trip and need cargo space for luggage and coolers or going on an adventure trip and need plenty of room for hiking and camping gear, the Jeep Cherokee won't disappoint. There is plenty of cargo space in the back of the Cherokee and a folding rear seat to expand the cargo area.
The interior of the Jeep Cherokee offers comfortable seating and upholstery depending on the different trim levels. You can also experience heated and ventilated seats in the higher trim levels for the Cherokee. You and your passengers should be quite comfortable with the dual-zone automatic temperature controls.